What makes a great Denver coworking space? We've been listening, and what we've found is that these most important and popular coworking amenities differ for each person. Some require quiet spaces where members can put their heads down and get work done. Other's seek open concepts that inspire social connections and the flow of ideas. Our members love unique and valuable community events, recreation space, a fully-stocked kitchen, beer, coffee, dog friendly environments, reliable internet, etc. The list goes on and on. But there's one feature that's been deemed important for coworking in Denver by almost everyone across the board and that aspect is the neighborhood in which the coworking space sits.
Our flagship Denver coworking location sits in the heart of Denver's River North Arts District, or as we and much of the city like to call it: RiNo. Let's take a look at what makes RiNo so great, and why so many choose the Arts District as the perfect location for their coworking office.
A Rich History
RiNo began as the city's industrial hub located within Denver's Five Points neighborhood. The area was home to foundries, pattern shops, and industrial factories that helped guide Denver's economy. In the late 80's and 90's, these industries moved away from Denver's core, leaving RiNo with vacant warehouses and failing infrastructure. It was around this time that artists took to the neighborhood as prices were low and virtually the entire neighborhood was seen as a canvas on which they could create.
Around 2004-2005, the city began plans to revitalize the River North neighborhood with help from artists Tracy Weil and Jill Hadley-Hooper who envisioned a district of connected artists and to drive demand for their paintings and other art.
10 years later, the neighborhood has boomed into a community with creativity at the forefront. New business and industry has been established with unique new offerings not seen anywhere else in the city. And with all of these new changes, the district remains true to its artistic roots, which shine through on every corner.
Got Beer?
With so much vacant warehouse space in RiNo and the city's reputation for great craft beer, it was the breweries that eyed such spaces as prime real estate. RiNo is home to over 15 breweries with no signs of stopping new additions.
One of the most established brewers in Colorado, Great Divide Brewing Company, can be found on 2201 Arapahoe St. With 18 Great American Beer Festival medals and five World Beer Cup awards, their crafty brews are not to be missed.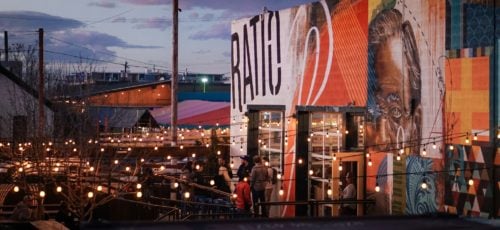 Another great brewery in the area, and just around the corner from Enterprise Coworking, is Epic Brewing Company at 3001 Walnut St. This Utah-based brewery specializes in small-batch, artisanal brews with high alcohol content. With 39 different beers currently on the menu, Epic Brewing is one of the fastest growing breweries in the state. Whats even better is, Enterprise Coworking has an Epic Brewing beer flowing on tap continuously!
Trendy Munchies
It's not everyone's preference to bring their lunch to work every day. And while our coworking members enjoy buying a quick sandwich or salad from our in-house Rise Cafe, when there's delicious food in the neighborhood, you have to go out once in a while.
The Denver Central Market is a popular space for a work-day lunch. This trendy food hall concept serves from 11 different vendors, ranging from seafood to burgers, sandwiches and even a bucher. It's a lively space where freelancers sit on computers and less intimate business meetings take place.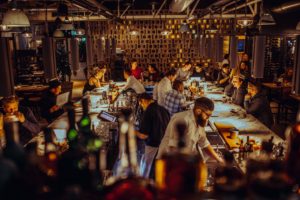 But RiNo is not just a place for lunch. There are tons of dinner and late-night spots that have made it to the top of Denver's culinary lists. Mix music and dining at Meadowlark Kitchen or sit down for some delicious wine and tapas at Barcelona Wine Bar. You also can't go wrong with the unique spin on mexican food served by Los Chingones. The list goes on and on, but take it from jus, once you start to explore RiNo's restaurant scene, there's no end.
All About the Art
It's right in the name. At its core, RiNo is very much an artist haven. the district's creative expression extends well beyond the walls of its 26 art galleries, with colorful and innovative street art around nearly every corner and an influential annual mural event called the Colorado Crush Street Art Festival in September.
To get you started, I've listed three must-see works, though it doesn't end here.
"Reverberations" – Trippy, concentric circles comprised of geometric patterns overtake an otherworldly landscape in this pulsating piece by Damon Soule and Justin Lovato. Find it on the east side of Larimer, between 25th and 26th streets.
"Larimer Boy and Girl" – Artist Jeremy Burns' clever use of a building's extruding fins means you can only observe the complete image by walking toward it from a distance. Go one way and you'll see a boy with a surprised expression; go the other to see a melancholy girl. It's located at 27th and Larimer.
2668 Walnut St. – Vyal One tackled a massive project when he adorned the entire building at 27th and Walnut in hallucinogenic orbs and eyeballs. The result is electric.
Coming Soon
RiNo is attracting all sorts of new businesses and industries. Our Denver coworking members continuously have new neighborhood features to explore and enjoy. These are some of the thing's we're looking forward to checking out over the next year:
Movement Bouldering Gym. Movement is opening it's 3rd climbing gym in RiNo. The 40,000 square-foot facility will feature over 250 boulder problems, weightlifting and cardio equipment. Better yet, it will be attached to Improper City-a cafe, food truck park and beer garden to wet your whistle. Movement RiNo opens this summer.
The Mission Ballroom. Denver's newest state-of-the-art music venue is expected for early next year. The 60,000 square-foot music venue will hold up to 4,000 guests, rivaling the Fillmore Auditorium in capacity. The ballroom will have tiered rows (inspired by Red Rocks) as well as general admission dance floor that provide unobstructed views at every level and sight lines from "every vantage point.
More Food, Drinks, and Coworking. At the corner of Lawrence and Broadway, a new food hall is being constructed. The food hall will feature multiple vendors, all culinary startups looking to break into Denver's competitive market, as well as a large bar and rooftop patio. Even better, the top two floors, 42,000 square feet, will be home to the 3rd location of Enterprise Coworking!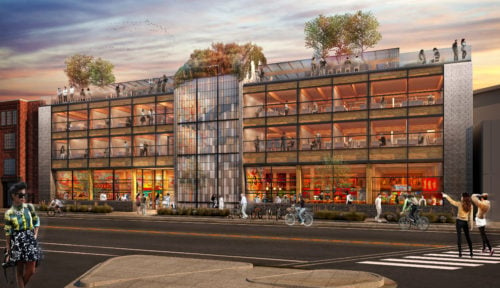 It's an exciting time to be working in RiNo. And it's important to know when choosing a Denver coworking space, that he neighborhood itself acts as an extension of your space. We encourage everyone seeking coworking in Denver to take a tour of our coworking facilities. And before or after the tour, be sure to take a walk around the amazing neighborhood we highlighted here. We look forward to seeing you around the coworking space and around RiNo! For more questions about Enterprise Coworking and the RiNo district in general, shoot over a message to membership@enterprisecoworking.com. We'd be happy to speak with you!