RiNo or the "River North Art District" is chock-full of some amazing restaurants, breweries, art galleries, concert venues and so much more. That's why we think it's the best coworking neighborhood in Denver and love that Enterprise Coworking is smack-dab in the middle of this amazing district.When seeking a coworking space for your business its important to think about the neighborhood and what it has to offer you, your employees AND your clients. You're not going to want to spend 100% of your time inside the building, so it makes sense to choose a space that has easy access to a more expanded community neighborhood. Impress your clients with your knowledge of the neighborhood. Bring them somewhere with delicious food and an appropriate atmosphere.
Below we've listed some of our favorite RiNo restaurants for client meetings that are sure to impress!
The Quick & Casual Spot: Crema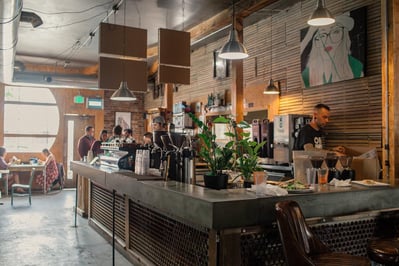 Crema is a local coffee house serving up a small but special lunch menu. Our members love Crema because it's right around the corner from the coworking space. The vibe is local and friendly, with a host of regulars you'll surely see every time you walk in. The food quick and delicious with everything made in-house. Although seating is minimal, it's great for quick and casual lunch meetings.
Recommendation: Moroccan Meatball Sandwich
The Crowd Pleaser: Denver Central Market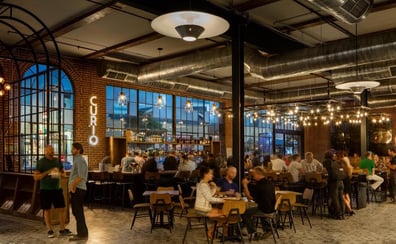 Denver Central Market is a large warehouse-type building in the center of RiNo on Larimer. You can't miss it. This is actually a food hall with a variety of food & beverage vendors, including vegetarian & vegan options. You'll also find a butcher, café, and impressive bar inside. DCM is buzzing with activity and has plenty of indoor and outdoor seating options. It offers clients many food options based on their taste, making it a practical spot for a client lunch.
Recommendation: Culture's Spicy Cuban Sandwich
The Trendy, Foodie Spot: Cart Driver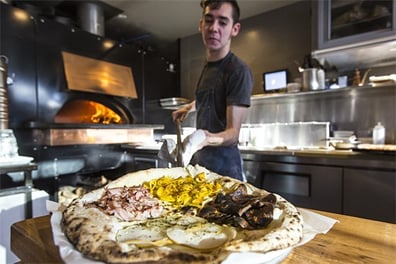 What more can we say other than pizza, salads, fresh oysters, breads & bites, oh, and bubbles on tap. Cart Driver has a unique, fun atmosphere with tons of outdoor seating that is still intimidate enough for a serious business lunch (and maybe a cocktail after). It's located at the entranceway to RiNo on Larimer offering clients a great short, street art-filled walk from Enterprise Coworking.
Recommendation: Daisy Pizza & Olives
The Place to Impress: Barcelona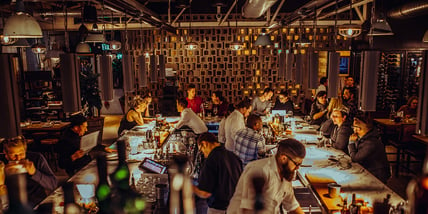 We're nearing dinner time as Barcelona is not open until 4PM on most weekdays, but on Friday's they open at 2PM, just in time for a delicious late client lunch. Barcelona is where to be a Wino in RiNo. Enjoy an exhaustive list of international wines with servers who go above and beyond to find your perfect glass. For food, its all tapas so prepare to share some of the best Spanish-inspired plates in Denver.
Recommendation: Burrata & Whipped Truffle Sheep Cheese & glass of Spanish Red
The Quaint Sandwich Spot: Call
Call is currently being remodeled and is closed for the winter, but I just couldn't leave it off this list. Call (or Beckon Call) serves up sandwiches, pastries, and everything fresh, vibrant, and craveable. Inside the seating is tight, but the patio is a lovely, inviting area to hold a client meeting. The staff is always friendly, helpful, and knowledgeable about what they serve. Also available are coffee and cocktails. We can't wait until they reopen!
Recommendation: The Salmon Tartine or the Chicken Salad Sandwich
We hope you and your clients enjoy our recommendations. Leave a comment if you think we missed a great spot! We're always looking for recommendations.