When learning about different coworking spaces we tend to focus on the community and amenities inside the physical space. Will it offer the right balance between work and community? Will it have ample WiFi bandwidth for our needs? Can my dog come to work? But it's also important not to overlook the neighborhoods which house the coworking space. How does the coworking community exist within the larger neighborhood community? For many, this means great dining options, fun happy hour spots, parking availability, and other attractions. Often, the coworking space reflects the neighborhood in which it lives.
Below we've listed what, in our opinion, are the very best coworking space neighborhoods in Denver, in no particular order.
Cherry Creek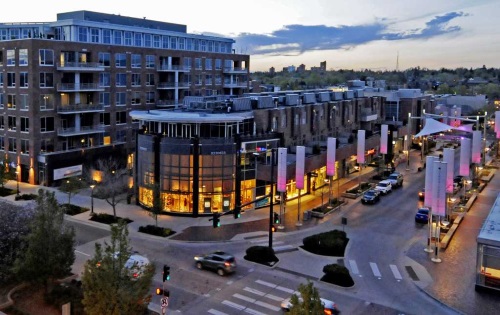 We all are familiar with Cherry Creek. You know, that upscale neighborhood where people pay a premium to work and play. So it goes without saying that the neighborhood is home to some of the best coworking spaces for people that fork up the extra money. Expect to find premium amenities and sharp facilities. Here, you'll notice a bit of an older membership base, that is, mid-career professionals in their 40's to 60's. Expect more suites than hot desks here with less startups and more established companies.
Cherry Creek has the most diverse shopping space between Chicago and San Francisco, with the Cherry Creek Shopping Center at its heart. Take a stroll through the streets and you'll find a broad selection of eateries and bars, from quick, to-go options to upscale, high-end dining. The neighborhood also has more than 15 Art Galleries and every July, more than 350,000 people flock to Cherry Creek North for the three-day Cherry Creek Arts Festival, which celebrates visual, culinary and performing arts with exhibits, demonstrations and interactive family activities.
Looking to get outside, the Cherry Creek Trail, an 11.2-mile path, runs from downtown Denver's Confluence Park to Cherry Creek Reservoir south of Denver. Cherry Creek is quickly growing with several major development projects planned for this year. We'll expect to see more coworking spaces rising up over the next few years.
LoDo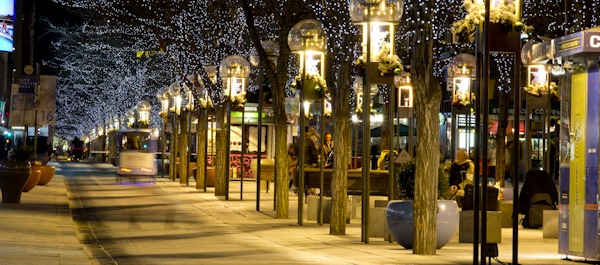 Lower Downtown, or LoDo, is Denver's oldest neighborhood in the heart of the city. Its bordered by Coors Field, the Pepsi Center, and the Central Business District and features a bustling downtown neighborhood with a trendy shopping and dining scene that's home to some of the city's most popular restaurants and bars.
Larimer Square is a popular spot for dinner and nightlife. Rooftop bars are always a great summer activity, especially preceding or following a ball game at Coors Field. In LoDo, you'll find the most street festivals out of any other neighborhood. Union Station makes getting in and out of the City a breeze, and, from here, it's just a quick trip to the airport.
Coworking spaces occupy solo 1-story buildings as well as floors in the city's high-rises. There's a mix of professional, service and retail businesses from startups to large, established companies making coworking an attractive option for many businesses. Remember this: parking is rough, and although there are surface lots, you'll be paying a lot for monthly passes.
If you're company has a work-hard, play-hard attitude, then LoDo might be the best coworking neighborhood for you.
Central Business District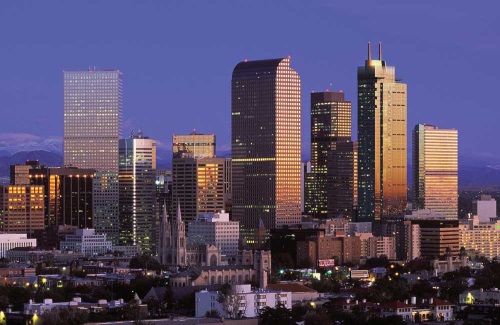 The Central Business District (or CBD) is the core of many of Denver's largest sectors in banking, energy and law. On street level, you won't be able to turn your head without noticing waves of suited men and women rushing to the next meeting. The best coworking spaces in the CBD exude high professionalism and you'll see a lot of professional services-type businesses in law, accounting and finance. In the CBD, most coworking spaces occupy one or multiple floors in high-rises offering beautiful views of the city below.
Here you'll be a stone's throw from some of the city's best dining, bars and shopping including 16th street mall, an outdoor, walkable shopping center with several big retailers, as well as Denver Pavilions, home to 40 cafés, clothing stores, taverns, burger bars, a movie theatre, and more.
It's the best coworking location for companies who have out-of-town visitors as its Denver's hotel hub, including the Hyatt Regency and Grand Hyatt Denver, Crowne Plaza Denver, the Ritz-Carlton, Denver Marriott City Center, Renaissance Denver Downtown City Center, The Curtis Hotel and the Brown Palace Hotel and Spa.
The CBD is home to historical landmarks such as the Paramount Theatre and the Daniels and Fischer Clock Tower as well as cultural centers like the Center for Performing Arts, Denver Art Museum, Colorado History Museum and the Denver Public Library.
Be aware, parking can be nightmarish but there are a number of surface lots and parking garages offering monthly passes. If you want to leave the car at home, you can get anywhere in the neighborhood by a quick walk or a short, free shuttle ride down 16th.
RiNo/ Five Points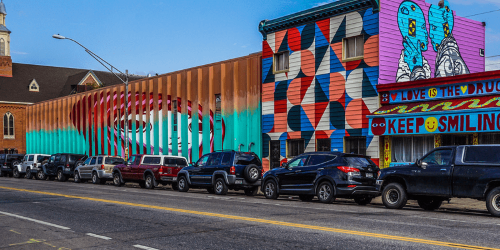 The River North Art District "where art is made" goes by the nickname of "RiNo" and in our—maybe somewhat
biased—opinion, RiNo is the very best coworking neighborhood in Denver. Walking the streets of RiNo, you get a good feel for its unique industrial revival. Underutilized commercial and industrial buildings have been repurposed into
some of the city's coolest new businesses. In fact, Lonely Planet named River North one of the top 10 neighborhoods to visit in the U.S.
RiNo includes a remarkable concentration of creative businesses, including architects, art galleries, designers, furniture makers, illustrators, painters, media artists, photographers, sculptors and an array of studio spaces. The neighborhood has become an incubator for Denver's brewing industry, home to amazing breweries like Ratio or Epic Brewing.
Over 30 art galleries call RiNo home, but the art doesn't stop there. No matter where you walk, on every corner you will see the amazing street art decorating walls, sidewalks and alleyways. CRUSH Walls has grown to become Colorado's largest urban art event. Showcasing local and international talent, it has been bringing art out of the galleries and into the streets from its very inception, reaching a pinnacle of 80+ public art murals last year.
RiNo houses multiple coworking spaces each offering a unique set of amenities. We say we may be a bit biased because Enterprise Coworking calls RiNo home and we wouldn't have it any other way.
RiNo is the best coworking neighborhood in terms of parking, with free spaces all along neighborhood streets. There is also ample public transit, two-way bike lanes and Denver B-Cycle, which make it easy to get around, not to mention the army of electric scooters that are placed within the neighborhood every day.
Denver Tech Center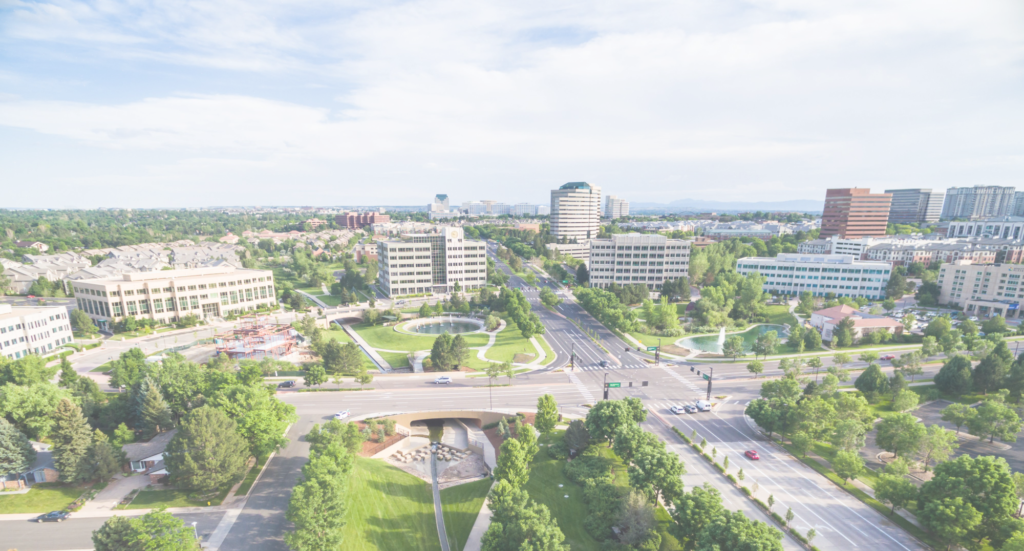 Okay, so it may not be IN Denver, but travel a few miles south of the city on I25 and you'll hit the Denver Tech Center, a major business hub which began as a major telecommunications center for companies like AT&T. Today hundreds of
companies, from startups to global empires, have offices in the DTC.
The DTC and Greenwood Village area is now home to a handful of spaces including the second location of Enterprise Coworking. In the past couple of years we've seen a dramatic suburban spread for coworking spaces. The suburbs are the best coworking locations for older millennials who have moved from city centers but are still looking for a collaborative, progressive workspace.
The DTC offers so much to do for the Denver suburbanite. The Landmark Development offers countless dining options, comedy venues, a movie theatre and more. Fiddler's Green Amphitheatre is a large outdoor concert venue that attracts acts from Dave Matthews to Keith urban. There are also multiple fitness centers, spas, and retail stores.
Choosing the best coworking neighborhood will depend on what you are looking for. How does the neighborhood tie into you personal and professional goals? Is it important to have a close spot for happy hour or a nice restaurant to impress clients? Do you require a bike path for commuting in and out of the city? The point we are trying to make here, is to consider the neighborhood feel and amenities along with what's provided in the coworking space. And don't forget to ask about the local partnerships! Its just another of the intangibles that make coworking so great!