By now, most people are familiar with what Coworking is, (e.g. the concept of multiple, independent, business and individuals working within a shared environment – usually including shared common areas and workspaces, private offices, dedicated or assigned desks, etc.). Coworking itself has become increasingly popular over the last decade, and the post-Covid world has lent itself to an even further increased demand in such flexible office spaces. (To learn about how coworking as a whole is doing in said post covid world, check out our blog "How Is Coworking Doing Two Years Into The Pandemic?").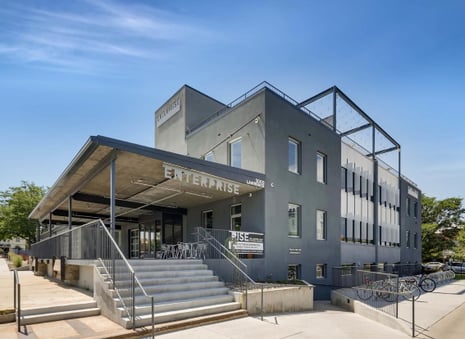 Here at Enterprise Coworking, we've risen up to meet this increasing need for flexible space. We are a coworking space specifically designed to scale alongside growing businesses and to provide flexible solutions to an evolving workforce and business world. We are truly more than a shared office space – we incorporate intentional workspace design and genuine hospitality to ensure businesses have the support they need to elevate their success.
That said, none of this was obtained overnight. We've put years of work into getting our space and community just right. While we've been open for just over six years now, Enterprise Coworking began long before that.
Over a decade ago, our parent company, Focus Property Group, was based out of a building in the heart of RiNo on Larimer street. However, as the Focus team grew, it became clear that a larger space was needed. So the Focus Group began to look for a new office space in the RiNo area to purchase. The idea was always to buy a large enough piece of property for both the Focus Team, as well as other tenants who would rent out additional space in the building from Focus, to work from. It was in this search for such a space that the building at 3000 Lawrence Street came to Focus' attention.
Then a derelict building that had been abandoned for nearly seven years. The property once stood as a Salvation Army distribution center as well as a Denver Incubator - complete with a commissary and more. Unfortunately, when Focus became interested in the property, it was in an utter state of disrepair. A home to the birds and rodents of the city, the building was littered with trash, feces, needles, and mold. It had at that point become a blight on the neighborhood. Nonetheless, Focus saw the potential of this once neighborhood staple. Working with architecture firm Tres Birds, Focus began plans for the redevelopment of the building.
Simultaneously, the idea for what the building would become began to evolve. At the time, the idea of coworking was a relatively new concept. But as the leader of Focus – Bahman Shafa became very intrigued by this very concept. Eventually, it was determined that a coworking space was much more appropriate for an area full of creatives, entrepreneurs, and startups like RiNo than a traditional office building. And so the official start of Enterprise was born.
Now this is where the real work began. In order to build the best and most desirable coworking space possible, Focus visited coworking spaces around the world, working to identify the key ingredients for the most premier coworking spaces. The key? Beautiful design, multiple office sizes, open and inviting common work areas, ample meeting space, top of the line amenities, outstanding customer service, and an inspiring atmosphere! Over the next two years, Focus worked in tandem with Tres Birds to ensure all these elements were integrated seamlessly into the building, business pan, and the operations.
Fast forward nine years since the official groundbreaking – Enterprise Coworking has become a staple in the RiNo area. By providing a modern space that is both sleek and inspiring, combined with tons of natural light, a motivational and collaborative atmosphere and a plethora of member benefits, (e.g., an onsite café, parking, gym and showers, unlimited free coffee and tea, a rooftop patio with stunning views of Denver, onsite mail services, easy access to Larimer Street shops, dining, and experiences, discounted event spaces, weekly member events, etc.), Enterprise Coworking has helped to transform the neighborhood and provide a work home to the many businesses, entrepreneurs, and professionals in the area.
As the RiNo area continues to grow and thrive Enterprise Coworking plans to continue providing workplace solutions for the neighborhood and beyond (now also having a second location in Greenwood Village near the Denver Tech Center). Trends show coworking as a whole is an essential part of the business world and will only continue to increase in demand as we navigate further into the future of business. Enterprise will continue to meet these needs head on. Offering sincere customer service, top of the line amenities, as well as memberships designed to encourage participation, networking, growth and success for both businesses and individuals alike.