The CRUSH festival comes to Denver's RiNo neighborhood just once a year, but leaves behind a curated outdoor gallery for everyone to enjoy. The festival, abbreviated CRUSH for Creative Rituals Under Social Harmony, was founded by Denver graffiti artist Robin Munro, and has been taking over the streets of RiNo since 2010. Munro has since created an event that brings together amazing street artists from around the globe; and together they celebrate art, urban beautification, creativity, and enriching the culture of Denver, Colorado.
The festival simultaneously celebrates the craft of graffiti while bringing life to RiNo's blank walls, and everyone is encouraged to attend the week of September 3rd. Showcasing local and international talent, it has been bringing art out of the galleries and into the streets from its very inception, last year reaching 80+ public art murals.
To encourage attendance for and to inspire a leisurely stroll through RiNo's art district, I've listed a few artists along with their impressive creations below.
Lauren Napolitano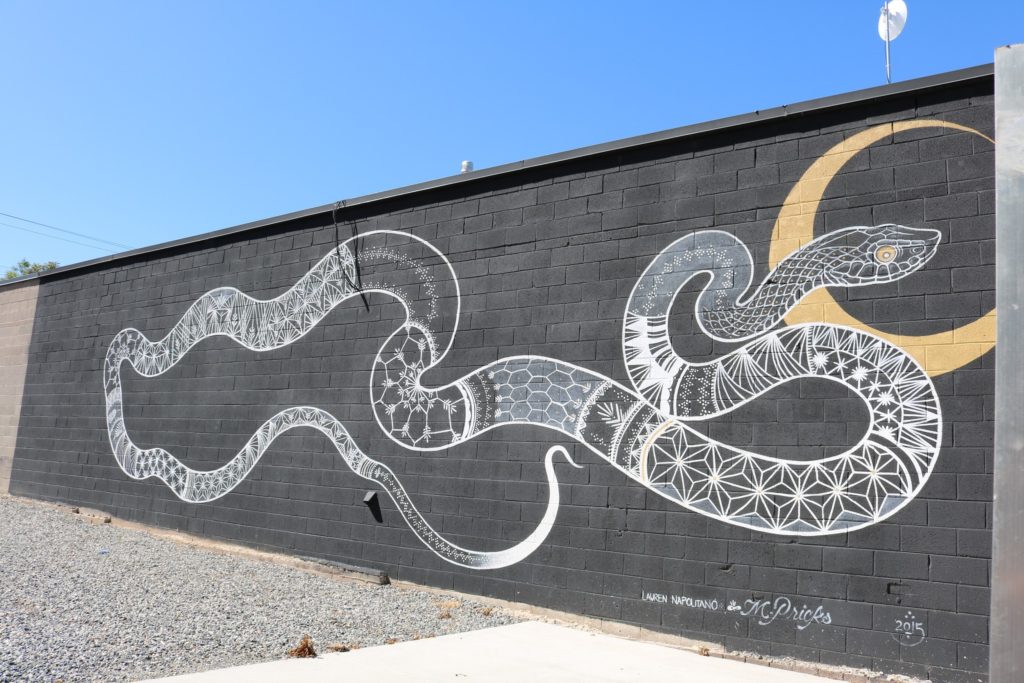 Lauren Napolitano is a traveling mixed media artist with a passion for creating anything out of everything, and celebrates the handmade and each of its imperfections. Napolitano's snake mural on RiNo's Bar Fausto is a visual representation of her affection for including movement and living organisms into all of her varied works. Greatly influenced by her mother's Mexican heritage, Napolitano's works are sure to include symbolic language and her own feminine mark.
Anna Charney
Anna Charney is an up and coming Denver native known for optical art and systems of illusions. Her most recent CRUSH mural in RiNo's art district uses graphic painting, dense detail and expansive compositions to create a sensational and retinal experience for the viewer. Charney was actually an intern for CRUSH founder Robin Munro, and her first time ever picking up a can of spray paint was at the festival just two years ago.
Otto Shade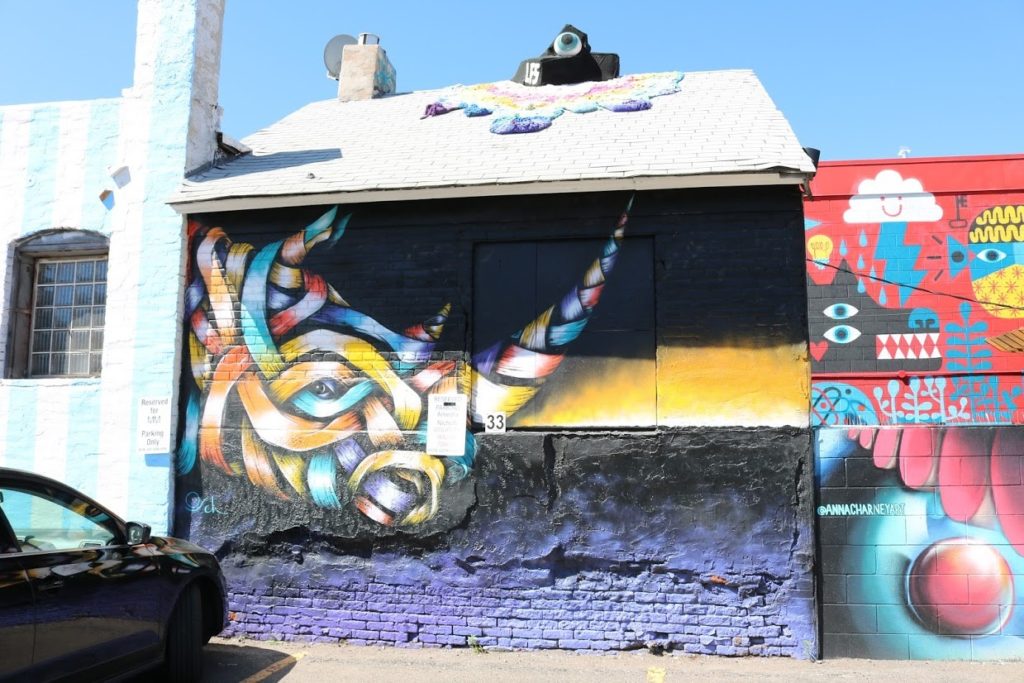 Otto Shade hails from Chile, and is known for his fascination with surrealism and abstract art. Yet all of Shade's street artworks are completed under the alias of "Osch". Osch's Rhino mural here in the RiNo neighborhood incorporates his trademark ribbon style, which emerges out of his knowledge of the use of space gained from his architectural background.
Elle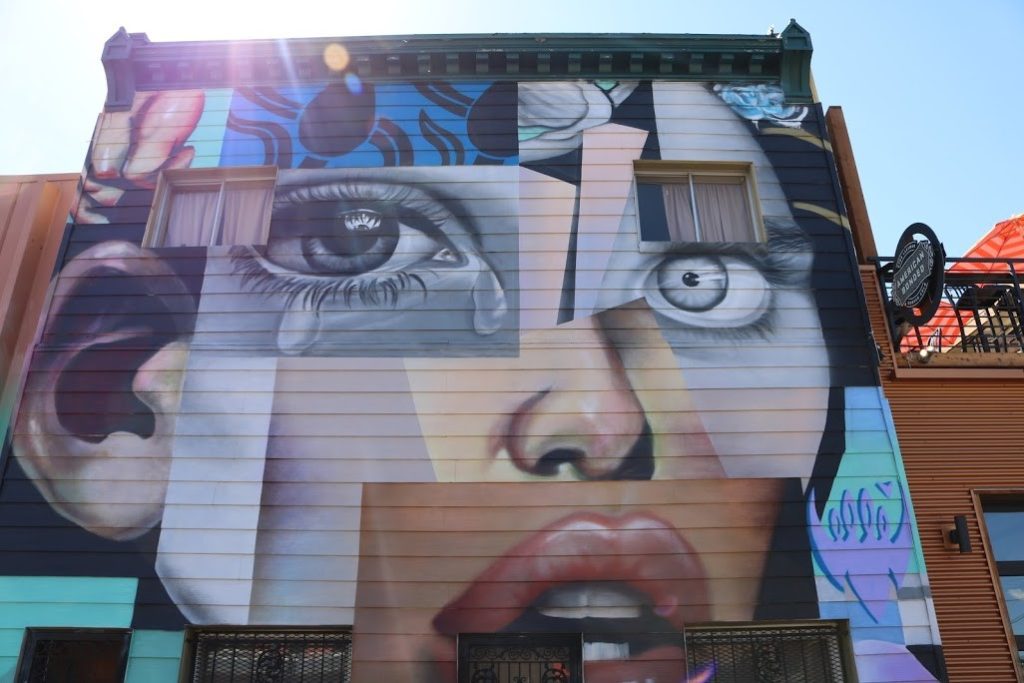 Elle is a female street artist who is making a lot of noise by disrupting an originally male dominated graffiti scene. Her works have been exhibited in numerous prestigious art galleries, featured in large magazines, video games, and even on fitness brand Reebok's leggings and yoga capsule collection. Yet Elle has not always been so successful, and actually began as an illegal street artist in New York. Elle considers her murals poetry, and creates stories by collaging disparate images.
Dragon 76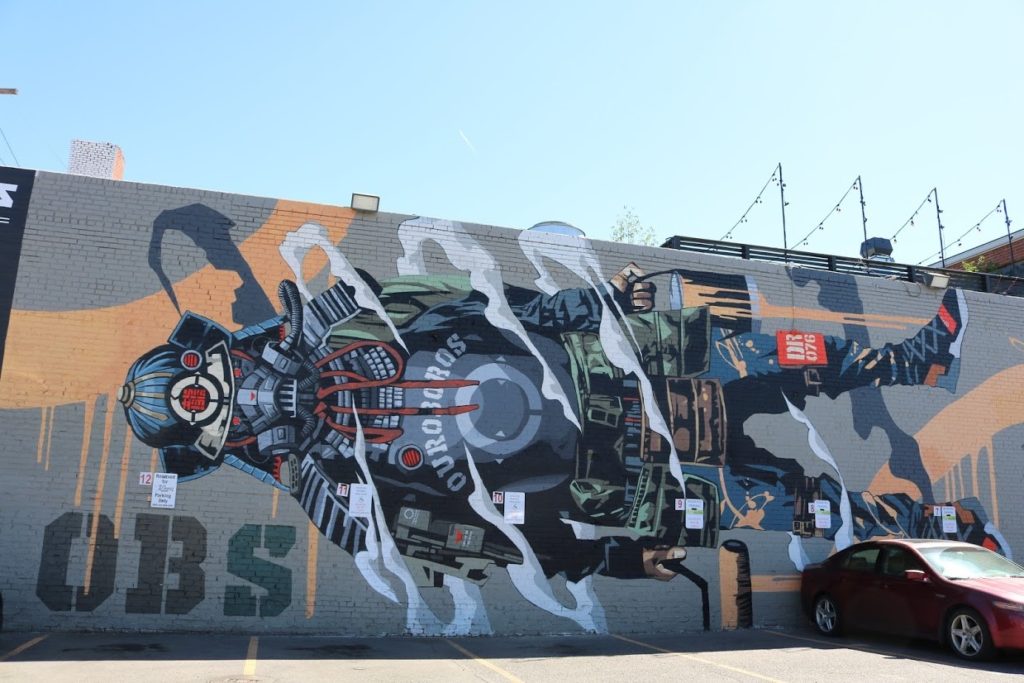 Dragon 76 was born in Signa, Japan and is an immensely successful painter who specializes in large scale live paintings. His works frequently appear in all manor of publications, on record sleeves, clothing and advertising campaigns. Dragon 76's "Zero Gravity" mural in RiNo's art district is a perfect example of his block print style and textured layers.
Enterprise Coworking members have the unique privilege of being surrounded by this magnificent work on a daily basis. Even inside the coworking space, we pay homage to the great works of art with our own murals and designs. We encourage our members to participate in the local art and events that makes our RiNo neighborhood so culture-rich, interesting and fun. We all look forward to September for CRUSH WALLS and hope to see you on the streets of RiNo!