Despite its rapid expansion, the coworking industry is still in its infancy. Most people outside the coworking space have many questions as to exactly how the space operates and how it would work for their unique situation. To help answer these questions for businesses and entrepreneurs entertaining the idea of moving to a shared workspace, we asked the members of our own Denver coworking space to take a survey and share with us the biggest and most pertinent questions they had before making the switch to coworking. What we received was an extensive list of quality concerns of which we will address right here, right now.
How is the internet quality and how reliable is it?
At Enterprise Coworking, our basic member internet runs on a shared 1GB fiber internet network that will fluctuate in speed based on how a person is using the internet. The shared internet allows people to download at faster speeds while using less data for those who are simply browsing. Additionally, each company gets a dedicated, private VLAN which keeps each company's data private and secure.
For companies that require more internet power, such as tech-heavy companies, anyone can upgrade to personal 1GB fiber internet if their work requires it.
Over the past two years, Enterprise Coworking made numerous upgrades to our internet system to make internet connection as reliable, safe, and strong as possible.
How do conference rooms work in regards to booking, price, and availability?
Our Denver coworking space in RiNo contains 14 meeting rooms of varying sizes, fully loaded with HDTVs, Chromecast, AppleTV, Polycom phone conferencing systems and dry erase boards. Enterprise Coworking's second coworking office in Greenwood Village currently has two meeting rooms with more planned for the near future.
At Enterprise Coworking, each membership type comes with its own set amount of meeting room hours. You can view these monthly meeting room hours in the following chart:
| | | | | | | |
| --- | --- | --- | --- | --- | --- | --- |
| Floater | Dedicated Desk | 2-Person Suite | 4-Person Suite | 8 Person Suite | 12-Person Suite | 50-Person |
| 0 Hours | 5 Hours | 10 Hours | 20 Hours | 40 Hours | 60 Hours | 250 Hours |
Should a member go over the allotted amount, additional meeting room hours can be purchased for $25/hour. Visitors to our space are also able to host meetings for $50/hour.
Typically, conference room availability is not a problem for Enterprise Coworking membvers. Enterprise Coworking has more meeting rooms and more Meeting room space per member than most other coworking spaces in Denver. Our members book these rooms through our internal system ahead of time. A note to our members: It may be easy to lose track of time and go past the time a group originally had scheduled. If ever you don't feel comfortable knocking on the door, ask a community manager and they can assist in clearing the room for you.
Every Denver coworking space has its own system dealing with meeting room hours. Helpful hint: when choosing a Denver coworking space, it may be best to determine how often your company would need to use a meeting/conference room. All coworking spaces handle booking meetings a little differently.
We find many of our members like to use the common areas for smaller, less private meeting such as in our lobby or kitchen.
What does a 'Floater Membership' entail?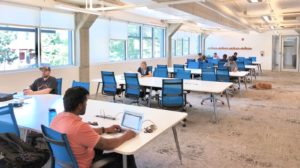 At Enterprise Coworking, there are two types of 'Floater Memberships'. The regular Floater Membership is $99 per month and gives one person access to the common spaces, coworking desks, and all business services such as copying and printing, and amenities such as coffee and beer. Access hours are Monday to Friday, 8AM to 5PM. Additionally, this membership has access to all community events.
The 'Full Service Floater' has 24/7 access to the building. This membership is $199 per month.
How are the suites furnished? Are we allowed to decorate and modify?
All private office suites ranging from 2-person to 44-person are furnished with the appropriate number of chairs and desks, storage credenzas, whiteboards and an electronic lock on the door. Larger companies of 50-100 people typically prefer to furnish the suites themselves.
Enterprise Coworking is flexible when it comes to modifying your office suite to really make the space feel like your own. Modifications such as painting, hanging shelves or pictures, and technical retrofitting are determined on a case by case basis, but typically are approved for contracts longer than month to month. We want our members to feel as comfortable and homely as possible and encourage personalizing your suite.
Additionally, for all suite members, we will place your logo on your suite door free of charge.
Do we have to pay for utilities like electricity?
Nope. All utilities are included in your membership agreement, including a cleaning service 3 times per week.
What are the different membership levels and how are they different?
Enterprise Coworking has three main membership levels: Coworking Floater, Dedicated Desk, and Private Office Suite, which is consistent with most Denver coworking spaces. We also offer a Virtual Membership for entrepreneurs who are on the go or work remotely but need a physical business address.
Coworking Floaters can choose 8AM to 5PM building access or 24/7 access depending on if you chose the Full Service Floater membership or not. It gives one person access to the common spaces, coworking desks, and all business services such as copying and printing, and amenities such as coffee and beer and access to all community events.
The Dedicated Desk membership gives you a personal desk all your own and 24/7 access to the coworking space. Bring your photos, monitor, personal files and lock them securely in your cabinet. The Dedicated desks are also electronically height adjustable just in case you like to stretch those legs and stand while working.
The Private Office Suites are as straight forward as they sound: an office reserved just for your team. These range in size from 2-person to 50-person and can be decorated and modified to your liking and comfort.
What are some additional perks or benefits that makes your Denver coworking space different from the others?
We have a large building compared to other Denver coworking spaces. Our 70,000 square foot RiNo location has a variety of perks such as ping pong, complimentary beer and soda taps, a video game room, a quiet library with a Zen room, indoor bike storage, an on-site café, and a large, fully equipped kitchen. There are two large event spaces: A University Classroom for up to 65 guests and a beautiful rooftop event space for parties of up to 185 guests.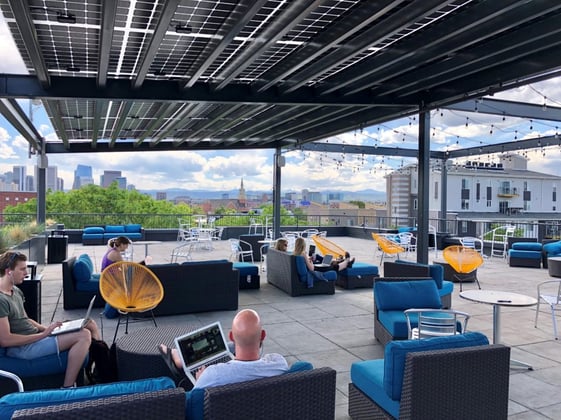 Our members love utilizing the rooftop in the summer months as a change of scenery from the interior of the building. With scenic mountain views as well as views of downtown Denver, it's a great space to catch some fresh air during the work day. Additionally, we host multiple monthly community events on the rooftop patio.
What are the access hours for the building?
Unless you have a Virtual Membership or a Basic Floater Membership, every member has 24/7 access to the coworking space.
Enterprise Coworking is open to the public for tours and non-member meetings Monday- Friday, 8am to 5pm.
How often is the coworking space cleaned?
Enterprise Coworking has a janitorial team who maintains the building's common areas each weekday evening. Individual suites are cleaned three times per week on Monday, Wednesday and Friday.
How is the shared workspace laid out?
The layout of a quality coworking space is meticulously thought out and optimized for efficiency, collaboration and well-being. Enterprise Coworking's 70,000 square foot RiNo location has 3 indoor floors and a rooftop patio.
The garden level is made up of conference rooms, 4-person suites, phone rooms and booths, a large kitchen, indoor event space and the recreational area we call the Ratskeller, equipped with ping pong, shuffle board, beer and a game room!
The main level is home to the main lobby and reception desk, a large coworking floater area, small to medium sized suites, many of the larger conference rooms, and our on-site Rise Café.
The upper level is occupied by large suites, two conference rooms, and a simple kitchenette.
You can even take a virtual tour of the entire RiNo location here.
Enterprise Coworking in Greenwood Village is a smaller space that will be expanding as more room in the building becomes available. The 18,000 square foot facility sits on two levels. It features a number of smaller team suites and dedicated desks spread among two levels. Members of this more executive-style concept of Enterprise Coworking share 3 conference rooms, a large multi-use room, 3 break rooms and a large outside patio area with access to a wide range of weekly community events.
What is the parking situation like?
A rarity with Denver coworking spaces, our RiNo location has an on-site parking lot with 70 parking spaces. Parking permits can be purchased as a member add-on. Free street parking is also available along the surrounding streets.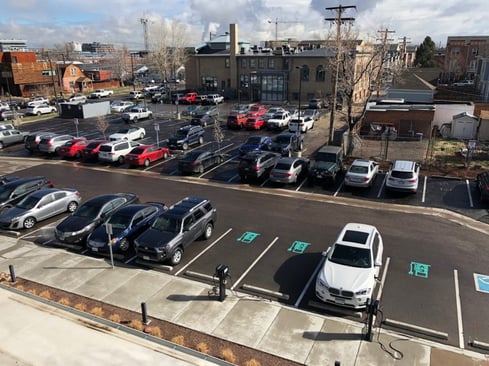 In Greenwood Village, Enterprise Coworking has on-site parking as well in a 200-parking space lot that is shared with the other building tenants.
Who can I go to for help and how available is help? Is there ample staff?
During business hours, our Denver workspace is staffed by 3 full-time community managers and one part time community manager. Our knowledgeable, friendly and experienced staff can help with any and all issues as they arise. We know how hard good help is to come by, which is why we staff more community managers than any other coworking space in Denver.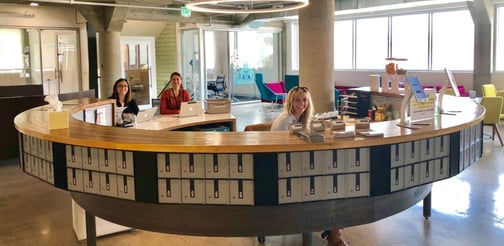 Our Greenwood Village location has one community manager on-site during business hours.
How does the mail system work?
Each company occupying an office suite receives a complementary mail service with their own mailbox at the front desk. For all other membership types, mail service is available at $25/month. All members may use the outgoing mailbox in the main lobby. Packages may be received by all members and the community management staff notifies members of any received packages via email.
Is Enterprise Coworking Dog Friendly?
Enterprise is 100% dog friendly! Our members love bringing their dogs into the office. On the day your furry pal makes their Enterprise debut, owners are given a pet policy to review and sign. Questions regarding the pet policy or a request to view the document should be directed toward the community management team.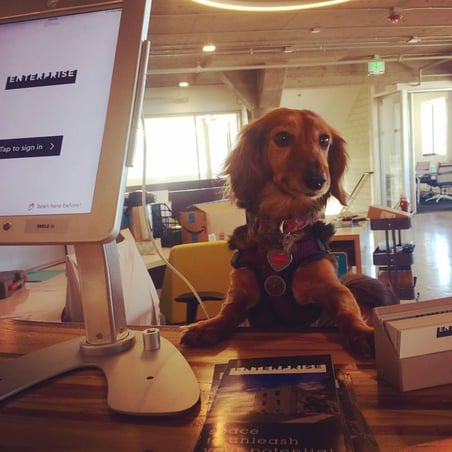 How does coworking adapt with my rapidly growing team?
Like mentioned before, Enterprise Coworking offers flexible memberships to allow your space to scale alongside your business growth. Members and companies sometimes feel it would be best to move from one suite to another, and Enterprise vows to not stunt growth by locking a company into a particular desk or suite. Enterprise Coworking exists to facilitate expanding businesses.
What are the community standards in terms of sharing common areas, cleaning and noise?
Courtesy and respect are expected characteristics of all Enterprise Coworking members. A coworking space is a collaborative environment, so conversations are to be expected. The goal of the coworking space is to inspire sharing of ideas and networking within our common areas. That being said, we do have a quiet room (what we call the library) for people who need to put their head down and get down to business. For phone calls, we have private phone rooms and booths that are free for all members to use which do not require online booking -- Just hop in!
When it comes to kitchen use, our members are respectful in that they clean up after themselves and put their dishes in the dish washer.
What are some ways you get people involved in the community and inspire collaboration between members?
Enterprise Coworking hosts a variety of weekly and monthly community events, always trying to incorporate something new. Whether it's networking happy hours on the roof, mediation, yoga, "fireside chats" with established CEO's, cooking classes, or educational seminars, members always have the option to get involved. You can view a few of our past events on our Facebook page.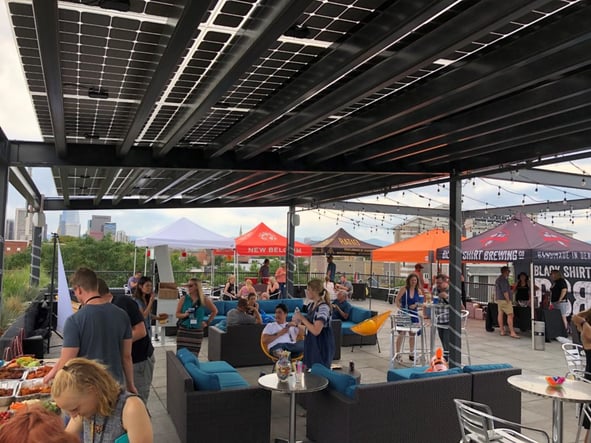 We also love receiving recommendations from our members and showcasing their businesses. Many member businesses end up partnering with other members in the building.
I hope I was able to answer most if not all of your questions about our Greenwood and Denver coworking space. If coworking is a new concept to you, we understand your questions and concerns. But with it's rapidly increasing popularity, we're sure you'll quickly learn the amazing benefits of the coworking space and how a collaborative environment can catalyze your business.
For additional questions, don't hesitate to contact our team at membership@enterprisecoworking.com.