Ryan had never worked out of a coworking space in Denver or anywhere before. He's a brand-new member in our Greenwood Village coworking location, belonging to a commercial investment company that leased a 10-person private office starting earlier this month. While Ryan was making himself a tea in the kitchen, I approached to introduce myself and welcome him to the space.
As the Marketing Manager at Enterprise Coworking, its part of my job to get to know our members and their reasons for choosing our office space. The first thing Ryan said as I introduced myself was, "I can't believe more businesses aren't doing this." I asked him to elaborate.
Ryan's company is larger than 10 people. The total number of employees is 25, and that number was growing before the COVID-induced recession. When businesses were forced to close down in March, Ryan, like many of his coworkers, feared for his job, but the company was able to retain their entire workforce with the help of a PPP government loan.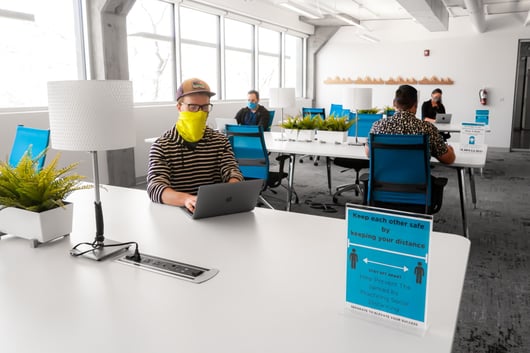 For two months Ryan and the rest of his team worked from home, leaving their 6,200 square-foot office space in the DTC to collect dust and cobwebs. When the initial wave of COVID had subsided, his team was instructed to return to the office on a more flexible basis. Some people continued to work remote full-time while others, like Ryan, went into the office two or three times per week.
"The office felt so empty and cold when we returned," Ryan told me. "It was nice to see some of my teammates in-person, but the emptiness took the energy out of the workplace. Returning to a ghost town did nothing to boost morale, especially when we knew money was tight and we kept staring into over 4,000 square feet of unused office space that we were paying $23 per square foot for. It didn't make sense."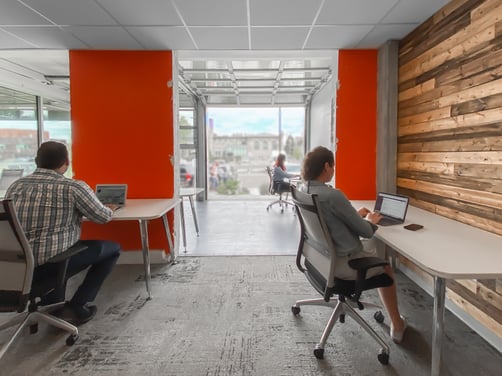 Ryan's company was paying almost $12,000 per month for their DTC office space while using under half of the space. Ryan wasn't the only one to realize this. With 4 months remaining on their 3-year lease, and the unsettling feeling that this recession/pandemic could last a while, the company began looking at other options.
"That's when we found Enterprise Coworking."
Ryan then spelled out a few reasons why they thought Enterprise Coworking could support them through the recession.
Coworking Leases are Cheaper
With members of different companies sharing communal amenities, coworking spaces offer businesses more affordable rent. For this reason, you see many startup companies investing in a coworking office. But established businesses and enterprise-level companies both have found homes in coworking offices, more now than ever.
By switching to coworking, Ryan's company saved around $6,000/month, what will be $72,000 saved their first year in the coworking space.
"That's an entire employee salary right there," says Ryan. "That's saving someone's job, putting food on the table for a family. That right there was enough reason to switch."
Coworking Leases are Flexible
Ryan's company chose to keep over half of their employees working remote, but that's not to say they wont ever come into the office. Coworking spaces offer "hot desk", or as we call them, "floater memberships" where a member works from a random non-dedicated workstation spread out about the space starting at only $99/month.
"Some of the remote employees were given floater memberships so that they could have a workspace with amenities to work from as they wish and also be close to the team," says Ryan. "For the price, it was a no-brainer."
Going along with flexibility, coworking spaces also generally have shorter-term leases, so you don't feel locked into anything for too long. This is especially significant when your team could grow or shrink quickly, changing your office size needs. Coworking spaces work with you to scale to different-sized office suites outside of contracts.
Utilities Included
Coworking offices come business-ready and include utilities. Internet, HVAC, janitorial, mail—its all on us! Coworking spaces use the power of community to bring these costs down for us (the operator), and make them free for you.
Coworking Spaces Have Free Amenities
Coffee, tea, beer, and snacks are all complimentary at Enterprise Coworking. Do the math. Calculate how much you are spending on office coffee, snacks, and happy hour. In our coworking space, you can negate those costs completely.
Other amenities differ between locations. In RiNo, our coworking space has an on-site café selling breakfast and lunch, as well as a gorgeous rooftop patio perfect for working, events, and happy hours. We have a full-kitchen so members can make elaborate breakfasts and lunches and also a personal gym we allow members to rent out by the hour for free.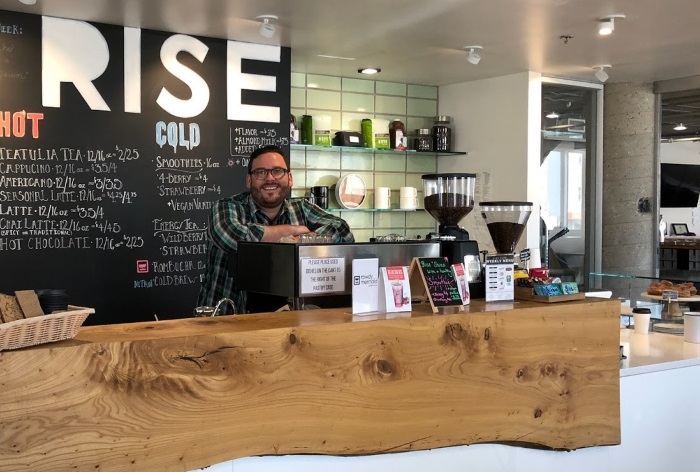 Coworking Offices OFFER Community
We're in the midst of weird times. Our spaces aren't filled with as much activity as they once were, but for good reason.
In the good old days, you'd walk from the member's area or your private office into the kitchen to grab a coffee and you might find yourself listening to a startup pitch its business model to a crowd of interested ears. Maybe you'd walk into a networking event or just stop to exchange a few words with a friend from a company down the hall.
Today, you'll still find people in the space, doing what they came to the space for: to get work done. We're not trying to push the boundaries of what we are allowed to do for the sake of community at the risk of member health. So now when you run into someone new in the kitchen, respect their boundaries, wear a mask, but still engage each other in conversation. Because that's what it's all about!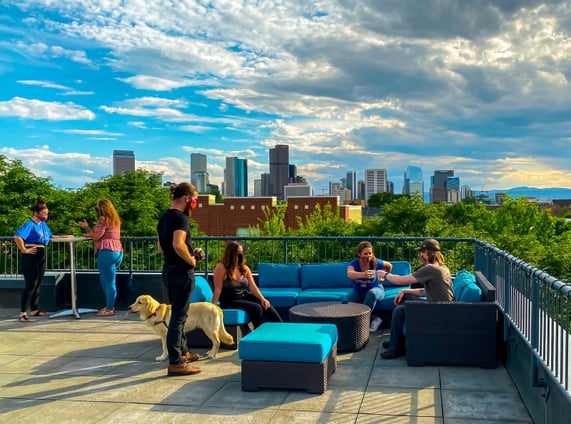 Our community activities will return stronger than ever once the world digs itself out of this COVID hole and we can't wait for that day! But as a business owners and employees, now is the time to focus on preserving your business, and that requires a space that allows you and your team to get work done.
That is exactly where we come in.
See how a coworking office for your team can help you through this recession. Take a tour of our space in RiNo or Greenwood Village today!