At Enterprise Coworking, we love our local RiNo neighborhood and all the great spots for food and drink within it. Last week we surveyed our members, asking them to list out what they thought were the best breweries in Denver's RiNo Art District.
The River North Art District, or "RiNo" for short, is a trendy, graffiti-coated, growing neighborhood on Denver's North side. It's home to our flagship Denver coworking space, as well as contemporary art galleries, concert venues, food halls, restaurants, and yes, tons of amazing breweries in between the colorful murals that decorate the streets.
Out of curiosity, we asked our members to list out their top 3 breweries in the RiNo neighborhood and the results have been tallied up!
Ratio Beerworks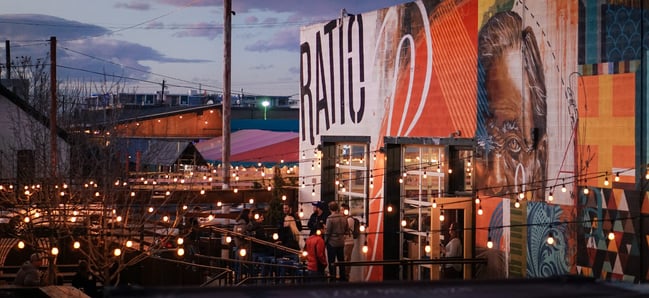 It came as no surprise that Ratio Beerworks topped our list of best breweries in the RiNo Art District. This large, industrial taproom is a Denver summertime staple with an enormous dog-friendly beer garden equipped with an outdoor bar, tons of seating, and bags sets (or cornhole depending on where you are from). Hovering over the beer garden and painted on the side of the building is a beautiful and vibrant mural paying tribute to the Arts District in which it stands.
Ratio offers a wide range of beer choices, from the classic and light Domestica to beers brewed with carrot and blood orange. Keep an eye out for their seasonal brews as well! Though they don't serve food, one of many rotational food trucks sit right outside the building, and yes, you can bring your food inside.
We're proud to house Ratio's corporate office inside Enterprise Coworking RiNo! We're just around the corner, making it a go-to after-work spot for our members.
Our Suggestion: The Dear You French Saison, a dry and earthy spin on the average saison with a tartness you'll love.
Our Mutual Friend Brewing
This small and colorful neighborhood taproom earned second spot on our list of best breweries in Denver's RiNo district. The storefront of Our Mutual Friend Brewing blends in with the colorful RiNo vibe and it's wacky and bright paint job makes it hard to miss on Larimer! The taproom has been a part of RiNo since 2012, earning itself medals at the Great American Beer Festival and the World Beer Cup along the way.
They offer many 100% Colorado grown brews with traditional and experimental options to choose from. Inside is a cozy space to curl up and try and few flights, while outdoors has plenty of picnic table seating with a food truck always near.
Our Suggestion: This, That and the Other Thing, a breakfast stout with Novo coffee and chocolate flavors.
Odell Brewing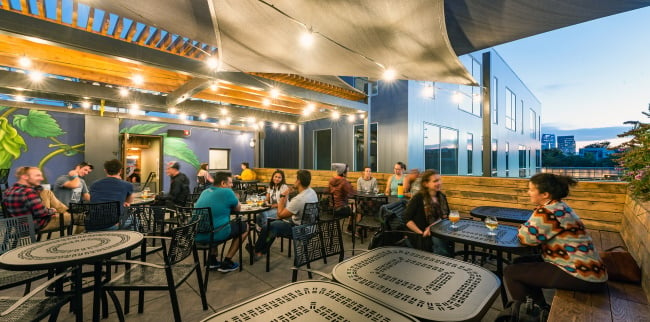 It's not hard to see why our members love Odell Brewing. Odell Brewing got its start back in 1989, with the first location in Fort Collins. Today, Odell distributes beer to 19 states and has it's second taproom right on Larimer a block from our Denver coworking space.
The taproom features a rooftop patio, dog-friendly porch, fireplaces, live music and murals by local artists.
Today, Odell Brewing is employee owned and every month customer tips are donated to their local charitable partners. They are always throwing great events which you can keep an eye out for here.
Our Suggestion: 90 Shilling Ale, an amber ale and the breweries top-selling flagship brew.
Epic Brewing Company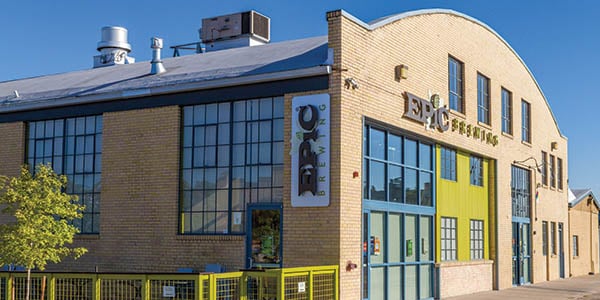 Inside this large, classic RiNo warehouse sits the popular second brewhouse of Epic Brewing. Epic began in Salt Lake City in 2010 and expanded to Denver's RiNo district in 2013 which supported its national distribution. With 25 taps and 39 total beers currently being brewed, anyone can find a flavor to fall in love with.
The impressive brewery offers tours on Fridays, Saturdays and Sundays. They have large televisions indoors, making it a great place to watch sports and hang out. Though they don't serve food, there is typically a food truck right outside and they also offer menus from local restaurants that deliver.
Our Suggestion: With 25 brews on tap, it's hard to narrow it down to one, but we love the Big Bad Baptist, a Big & Boozy imperial stout aged in bourbon barrels and infused with coffee and cocoa nibs.
Black Shirt Brewing Co.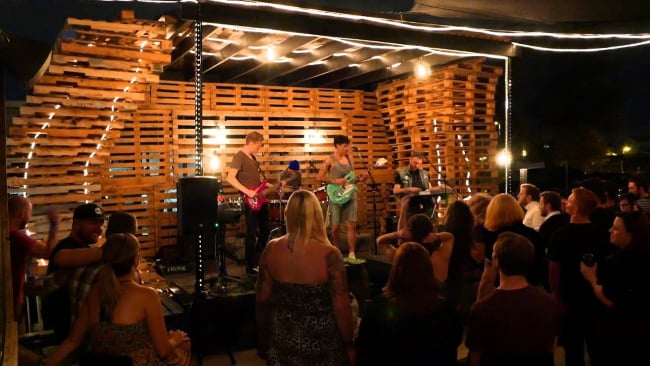 Known for not only its amazing beers, but delicious pizza as well, Black Shirt Brewing is another one of our member favorite breweries in RiNo. In their own words, "Black Shirt Brewing Co. strives to offer an experience that strikes a harmonious balance between music, crave-worthy pizza, delicious craft beer and an exemplary guest experience"—and they do just that! Their spacious yet intimate beer garden hosts weekly live music on Fridays and you can check out the schedule here.
Our members find BSB a great place for lunch, dinner or late-night drinks with rock-inspired artwork and music filling the air.
Our Suggestion: Pants Can Dance West Coast IPA, a bitter, sappy IPA with round citrus underpinnings paired with a large Satriani pizza.
Although our members have spoken and found these to be the best breweries in RiNo, there are tons more great brewerie to be explored in our corner of Denver! What do you think about this list? What would you reccomend? Let us know in the coments!